The history of the UConn Ski Team much resembles a roller coaster ride, consisting of an ever-changing scenery and program. UConn itself was much more designed for a ski team with University ski slope, now in disuse, which opened in the 1960s behind the sheep barn east of Horsebarn Hill. There were two top tows, one for beginners and another for expe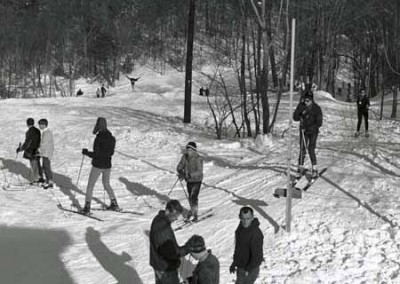 rienced skiers. Now however, the closest mountain for the team is an hour away in Southington, CT.
Beginning in the early 70's, the ski team was a Division I sport.  The UConn Ski Team was coached by Larry Gianatti from 2009-2015. He was captain of the team in 1977-78. Once a husky, he just couldn't stay away, and was pulled out of his ski "retirement" in 2009 when the now club sport UConn Ski team was in desperate need of a coach. It took Larry Gianatti just 3 years before he broke history and brought the first women's team ever to Nationals in Sunday River, Maine in March of 2012 and two years later the Men's team placed 4th at the National Championships, the best result ever recorded at the USCSA Nationals by a club team.  Coach Bruce Diamond started coaching the huskies in 2015. As his first year as coach he lead the men and women team to nations. The team has continued to grow over the past few years, and wouldn't have been able to had it not been for the support of its alumni and fellow old ski team members. Being a club sport, the team has provided most of its funding personally, and has always appreciated Captain Phil's of 1976-77 yearly donation to the team as well as all its other consistent alumni support. Although the team has changed drastically through the years, one thing hasn't changed: the alumni pride for the team and ski racing. Thanks to everyone past and present!